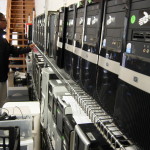 We have used desktops, laptops (when available), printers and computer accessories and more for sale.   Laptop computers are sold "as-is" without warranty and without the possibility for return and/or exchange/store credit.  Desktop computers are covered by a 90 Day Parts Warranty (see below).
All refurbished computers are unique. Because the Free I.T. store depends on donations, your new computer will be like no other. That said, each computer comes with:
a dual core processor
4GB of RAM
at least 80GB hard drive
GNU/Linux Operating System
Free I.T. prices are great, but do you want to save even more? Volunteer at Free I.T. Athens and get free computers! Learn more about volunteering→
Other Locations
If you cannot make it to our regular open hours you may purchase desktop computers from the Project SAFE thrift store (995 Hawthorne Avenue Athens, GA 30606) or from Wuxtry Records in downtown Athens (197 E Clayton St, Athens, GA 30601).  Partial proceeds from Project SAFE sales go to Project SAFE's efforts to end domestic violence.
Price List

Our store stock availability relies on the donations we receive, so this often changes from week to week. When shopping at our Homewood store, our volunteers can tell you if a part has been tested. Some peripherals are subject to varying prices and purchasing limits. All prices include sales tax.  Laptop computers are sold "as-is" without warranty and without the possibility for return and/or exchange/store credit.  Desktop computers are covered by a 90 Day Parts Warranty (see below). The following is a list of prices for how much we sell these items when they are in stock. Please do not let this list serve as a reflection of our current stock.
Desktop PCs
Standard (core 2) start at $15.00
Premium (core i) start at $35.00
Laptops
Typically between $25.00 – $75.00
Monitors
15″ display $10.00
17″ display $20.00
18″ display $25.00
19″ display $30.00
20″ display $35.00
21″ display $40.00
22″ display $45.00
23″ display $50.00
24″ display $55.00
Hard Drives (PATA 50% off)
80GB $4.00
80-160GB $10.00
161-250GB $14.00
251-320GB $20.00
321-500GB $24.00
501GB-1TB $30.00
1.01-2TB $40.00
2.01-3TB $74.00
Solid State Drives
80 GB $10.00
80-160GB $20.00
161-250GB $30.00
251-320GB $40.00
322-500GB $50.00
501GB-1TB $60.00

Power Supplies + Adapters
Desktop Power Supply $5.00
Laptop Power Supply $10.00
Laptop Battery $10.00
Power Strip $2.00
Other Power Bricks $1.00
Upgrades
RAM (per 1 GB) $3.00
CD/DVD R/W Drive $10.00
Computer Fan $1.00
Expansion Cards $5.00
Networking
Ethernet Cable (< 6 FT) $1.00
Ethernet Cable (> 6 FT) $2.00
USB WiFi Adapter $15.00
Network Switch $5.00
Wireless Router $10.00
USB Wifi Adapter $15.00
Accessories
Microphone $1.00
Speakers $5.00
Keyboard $2.00
Mouse $3.00
Assorted Cables $1.00
Other
Laptop Bag $5.00
Computer Case (Empty) $10.00
Printers (All Types) $10.00
Free I.T. Athens T-Shirt $10.00
WARRANTY
Free I.T. Athens warranties the original hardware, as sold, on computer systems, excluding those marked "as-is," for the period of 90-days from the date of purchase. If there are any technical issues during this 90-day period, volunteers will put forth their best efforts to repair or replace defective hardware and ensure that the system and its components function under the GNU/Linux operating system that originally came installed on the machine. Repairs conducted on systems under warranty have no guarantee of data or system settings recovery, so please back up your data regularly.
Warranties are void if:
    Any changes are made to the GNU/Linux operating system that the computer originally came with.
    There are changes, modifications, or obvious intentional damage to the original system hardware.
RETURNS
All sales are final, and we do not offer refunds for any reason. All returns must be completed within 30 days of purchase. In order to return a computer it must be in the same condition as originally sold. However, if the system has a hardware issue that cannot be resolved or repaired, Free I.T. Athens will issue a store credit for the full price of the system purchased. Any replacement system purchased with this credit will be treated as a separate transaction and will have another 90-day warranty period attached.