Donation Target
$1,000.00
$300.00
$
MONETARY DONATIONS
Monetary donations are sincerely appreciated. You may donate via cash or check during our open hours, via mail (please mail donations to P.O. Box 81931 Athens, GA 30608), or electronic funds transfer. You may also donate using a credit card through the PayPal "Donate" button on the right hand side of this page or by clicking here.
Your donation will make a direct impact as we have absolutely no paid staff.  We thank you for donating to Free I.T. Athens.

Free I.T. Athens is a recognized 501(c)(3) non-profit organization (EIN # 27-2381518) so your donations made are tax deductible.  We do not valuate donations made.
If you have any questions about items we accept or want more general information on donating please call 706-621-6157 or e-mail donate@freeitathens.org.
WHAT ITEMS DO YOU ACCEPT?

We accept the following:
Desktop and laptop (please bring the power supply if you have it!!) computers with a Pentium IV/AMD Athlon or newer processor (anything older will be recycled)
LCD and CRT Monitors
Laser and inkjet printers
Computer speakers
PS/2 or USB keyboards and mice
Memory
Hard drives
Disc drives
Grounded extension cords
Power strips
Battery backups
Tools of all varieties. If it can open a computer, crimp a cable, test a part, etc. we probably want it!
Office supplies (printer paper and pens are always appreciated!)
We do not accept the following:
Televisions
Media players (VCRs, Laser Disc players, CD Players, DVD players, Blu-ray players, etc.)
Video Game Systems
Audio equipment (e.g. stereo systems)
Miscellaneous boxes of unsorted cables and/or junk.
Software.
These items may be taken to the Athens-Clarke County Landfill.
READY TO DONATE?
Donations may be taken to our workspace on Sunday from 1-5pm, Wednesday from 6-8pm and Friday from 3-7pm.
DIRECTIONS
When you arrive, drive around to garage door #9 at the back of the building.
Please knock loudly on the garage door and a volunteer will be able to carry your equipment into the building and print a receipt (if needed).
If you represent an organization or business with a large amount of hardware to donate, please contact us to arrange a pick-up or drop-off.
Please do not leave donations outside of our building.  Dumping is illegal!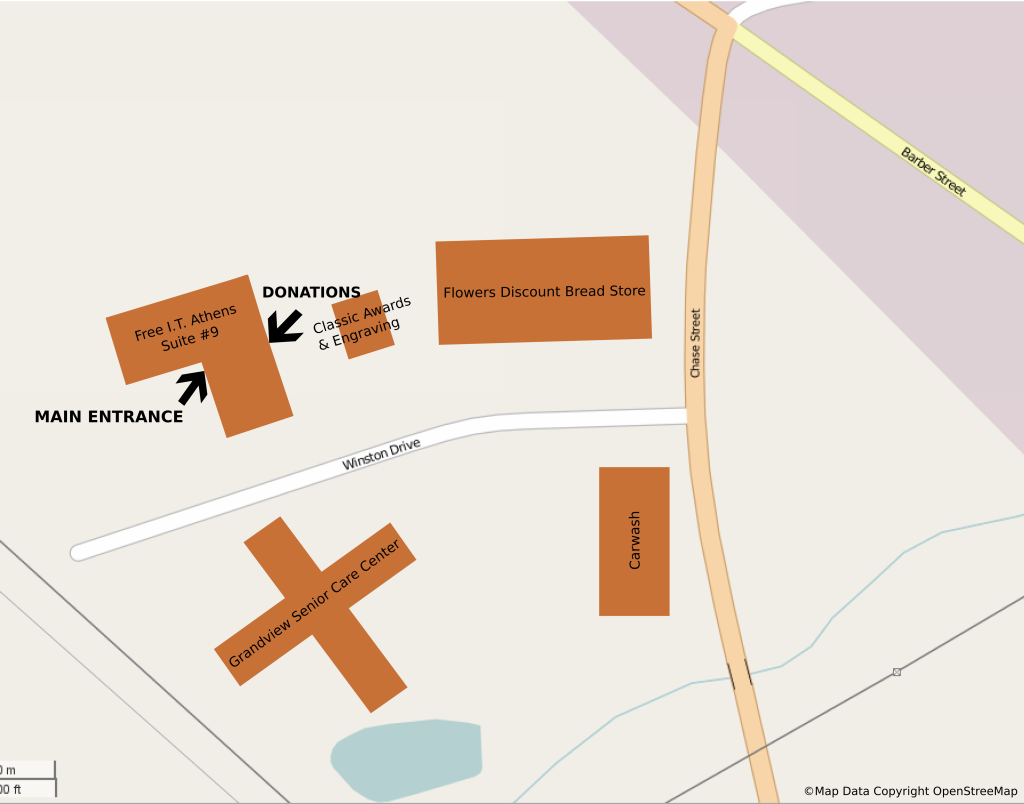 WHAT HAPPENS TO MY COMPUTER?
When you donate your computer to Free I.T. Athens, our volunteers remove its hard drive and put the drive through a data wiping process using free software called DBAN.  DBAN removes data by writing random numbers to the disk.
After your data has been wiped from the hard drive volunteers will refurbish your computer using a free operating system called Linux Mint.  Your computer will either be granted to a volunteer for completing community service, sold to an individual or family that cannot afford a new computer, or granted to a non-profit organization/community group.  If your computer cannot be refurbished, it will be recycled through an R2 and/or e-Stewards certified recycler.
AMAZONSMILE PROGRAM
We've registered with the AmazonSmile program, where Amazon donates "0.5% of the price of eligible AmazonSmile purchases to charitable organizations selected by [you]." You can help us by shopping through http://smile.amazon.com/ and selecting Free I.T. Athens as the charity to donate to every time you order something from Amazon! Thank you for your support.