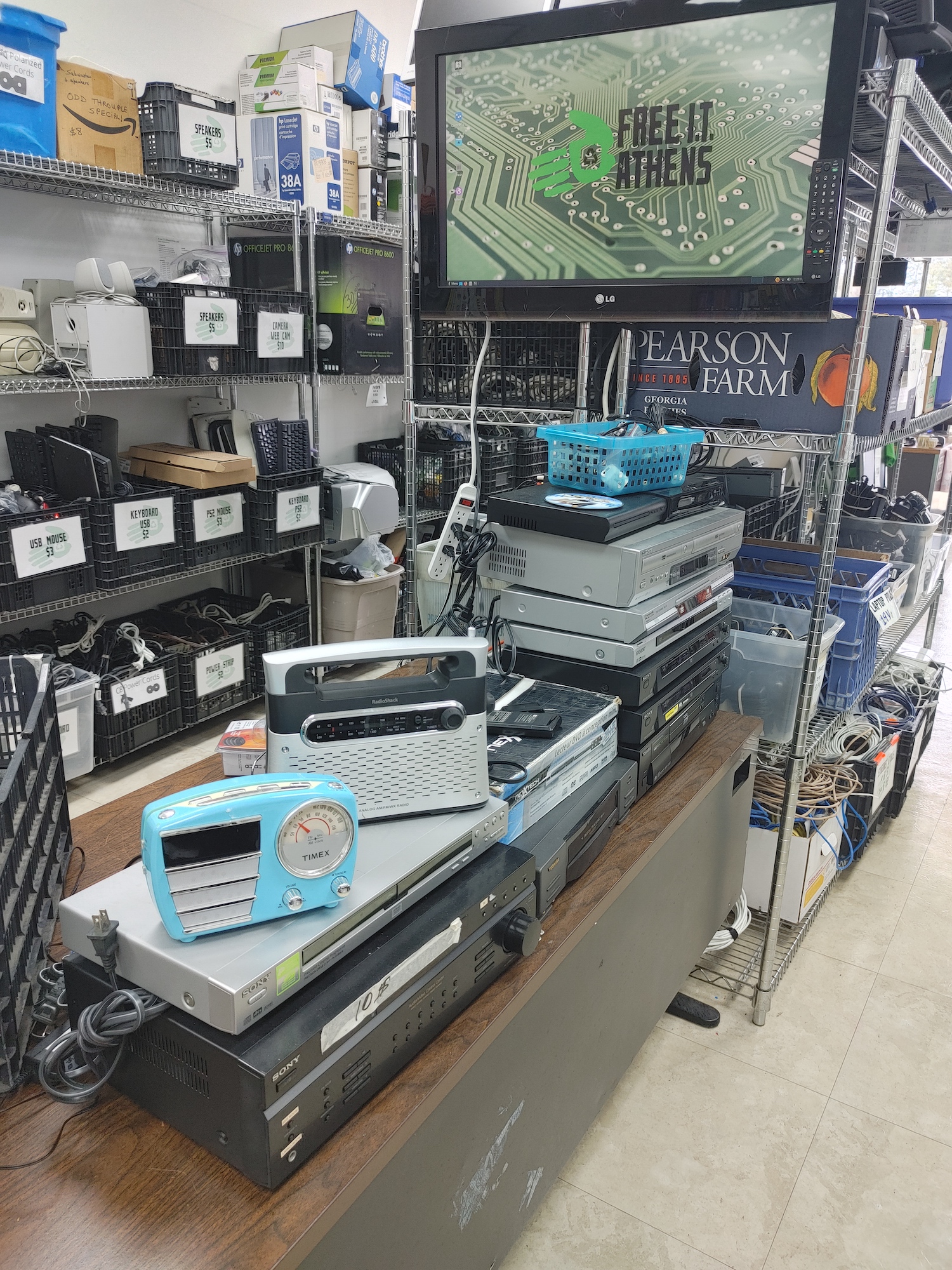 New and retro computers at affordable prices
Save money and the environment all while supporting Free I.T. Athens by shopping in our store! We maintain a constant stock of desktop computer systems running Linux Lite as well as the occasional laptop. The store also carries a rotating inventory of peripherals and parts, including monitors, keyboards, power adapters, hard drives, and much more.
Because we are a secondhand store, our inventory varies depending on recent donations. As such, we can't guarantee that we'll have any particular item in stock. The best way to find out what we carry is to make regular visits to our store. Volunteers are happy to answer your questions!
We are currently only offering shopping on Saturdays from 11a to 5p and Sundays by appointment. Click the button below for more information.
Occasionally we post a selection of items to our online store. Browse the current selection →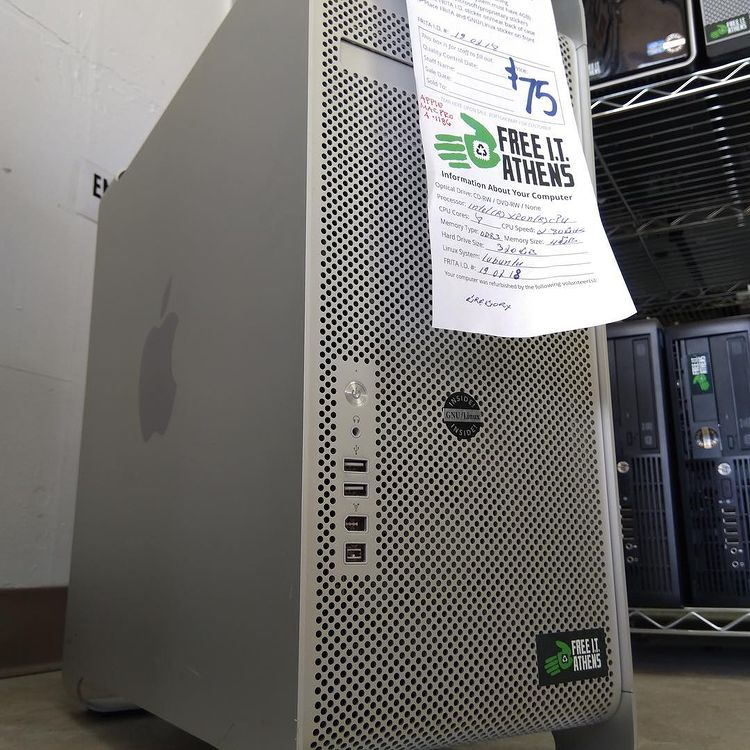 Desktop PCs
Desktops come with at least 4GB RAM, 80GB of storage, and a free 18″ or smaller monitor. Those with PS2 connectors come with a PS2 free keyboard and mouse.

Desktop computers, unless marked "as-is" come with a 90 day hardware warranty. See below for more information.
Standard (core 2) start at $15.00
Premium (core i3) start at $35.00
Premium (corei5/7) start at $65.00
Upgrades
RAM (per 1 GB) $3.00
CD/DVD R/W Drive $3.00
Computer Fan $1.00
Expansion Cards $5.00
Networking
Ethernet Cable (< 6 FT) $1.00
Ethernet Cable (> 6 FT) $2.00
USB WiFi Adapter $15.00
Network Switch $5.00
Wireless Router $10.00
USB Wifi Adapter $15.00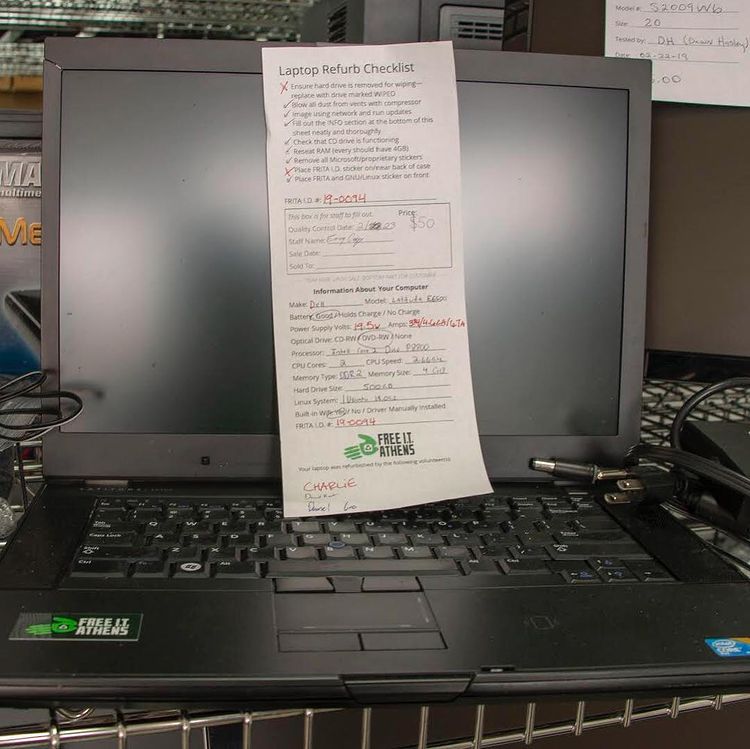 Laptops
Typically between $25.00 – $75.00 depending on processor and features.

All laptops come with at least 4GB of RAM and 80GB of storage. They are sold "as-is" with no returns or refunds. See warranty below for more information.
Hard Drives (PATA 50% off)
80GB $4.00
80-160GB $10.00
161-250GB $14.00
251-320GB $20.00
321-500GB $24.00
501GB-1TB $30.00
1.01-2TB $40.00
2.01-3TB $74.00
Solid State Drives
80 GB $10.00
80-160GB $20.00
161-250GB $30.00
251-320GB $40.00
322-500GB $50.00
501GB-1TB $60.00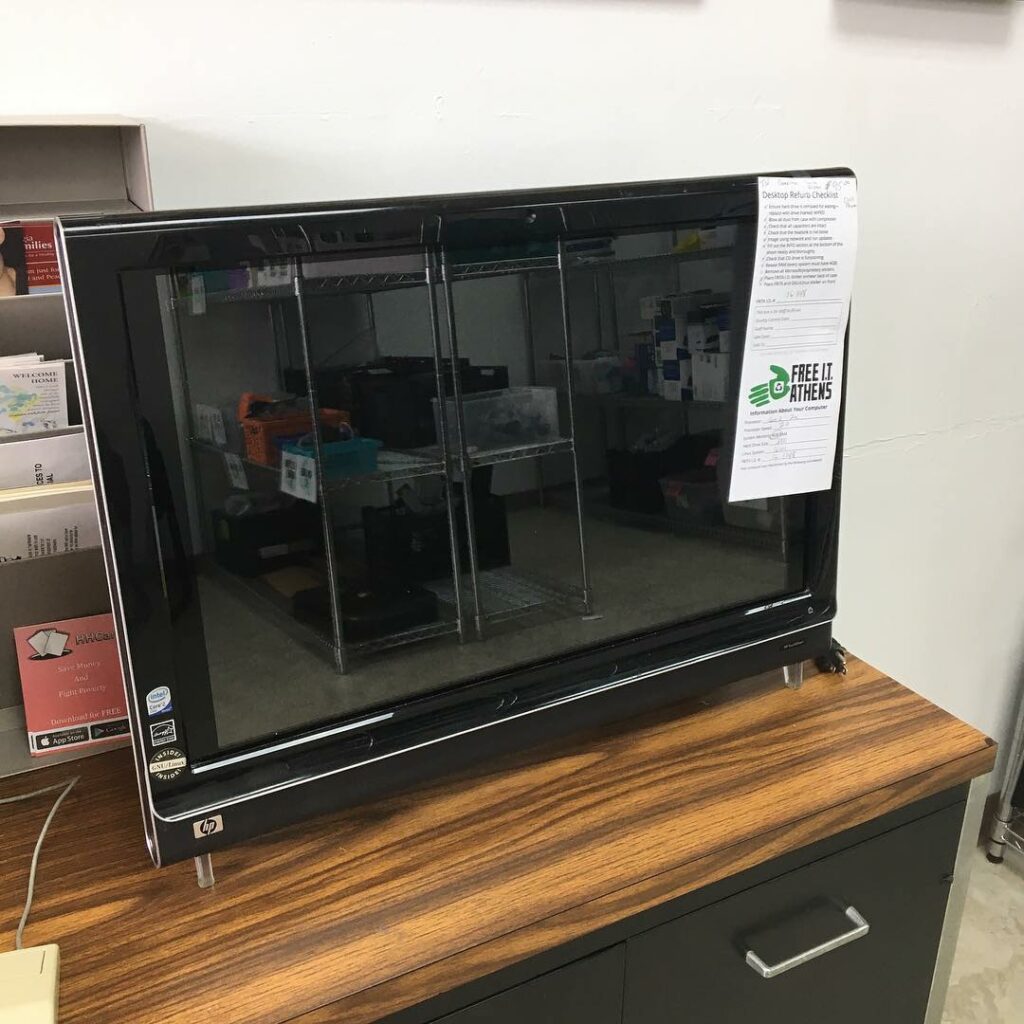 Monitors
15″ display $5.00 or free with the purchase of a desktop
17″ display $10.00 or free with the purchase of a desktop
18″ display $15.00 or free with the purchase of a desktop
19″ display $20.00
20″ display $25.00
21″ display $30.00
22″ display $35.00
23″ display $40.00
24″ display $45.00
Power Supplies + Adapters
Desktop Power Supply $5.00
Laptop Power Supply $10.00
Laptop Battery $10.00
Power Strip $2.00
Other Power Bricks $1.00
Other
Laptop Bag $5.00
Computer Case (Empty) $10.00
Printers (All Types) $10.00
Accessories
Microphone $1.00
Speakers $5.00
Keyboard $2.00
Mouse $3.00
Assorted Cables $1.00
Warranty
Free I.T. Athens warranties the original hardware, as sold, on computer systems, excluding those marked "as-is," for the period of 90-days from the date of purchase. If there are any technical issues during this 90-day period, volunteers will put forth their best efforts to repair or replace defective hardware and ensure that the system and its components function under the GNU/Linux operating system that originally came installed on the machine.
Repairs conducted on systems under warranty have no guarantee of data or system settings recovery, so please back up your data regularly.
Warranties are void if:
Any changes are made to the GNU/Linux operating system that the computer originally came with.
There are changes, modifications, or obvious intentional damage to the original system hardware.
Returns
All sales are final, and we do not offer refunds for any reason. All returns must be completed within 30 days of purchase. In order to return a computer it must be in the same condition as originally sold. However, if the system has a hardware issue that cannot be resolved or repaired, Free I.T. Athens will issue a store credit for the full price of the system purchased. Any replacement system purchased with this credit will be treated as a separate transaction and will have another 90-day warranty period attached.