I'm so pleased to share that Free I.T. Athens and fellow community tech nonprofits will be speaking at this year's Hackers on Planet Earth (HOPE) conference! Hope is an incredible event held every two years in NYC with an engaging list of speakers, fascinating hackerspaces, and lots and lots of mate.
Even though the event is out of state, you can still participate because all the talks are streamed live! Check out Hope's website to digitally pop in and catch a speaker.
Representatives from Free Geek Mothership, Free Geek Toronto, Free Geek Arkansas, and Free I.T. Athens will come together on Sunday, July 22nd at 11a in the Booth room to chat about technology and community.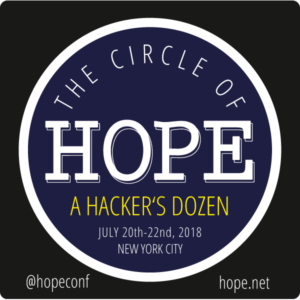 Cheers,
Charlie