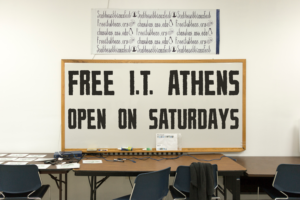 Last month Free I.T. staff members "test drove" new hours on Saturday mornings. I'm happy to report that it was a success! Not only did people come out to shop, get tech support, and donate, but volunteers started showing up too.
So we decided to put the new hours permanently on the schedule: Free I.T. Athens will now be open on Saturdays from 9a – 1p.
Here's some of the great stuff you can do during Saturday open hours:
Screening of CODE: Debugging the Gender Gap
This month Franklin College is hosting a networking, movie screening, and panel discussion all about the gender gap in the software industry. We're giving the event a shout out because it aligns with our mission to bridge the digital divide!
Film Screening of CODE: Debugging the Gender Gap
Wednesday, March 22 at 5:30 PM – 8:30 PM
UGA Special Collections Library
Facebook Event
See you in the workspace!
Charlie