Free I.T. Athens volunteers are participating in a few events this month and we hope you'll join us!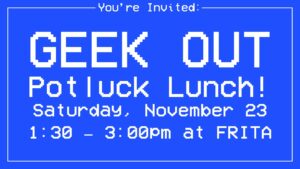 Whether you love Linux, are passionate about coding, can't get enough of vintage tech, could talk about environmental science for hours, or anything in between, you're invited to GEEK OUT with Free I.T. Athens volunteers over a potluck lunch! Saturday, November 23rd at 1:30pm in the Free I.T. Athens Workspace.
Free I.T. Athens will provide plates, water, tea, sodas, and a crew of geeky volunteers who are looking forward to meeting you. 🤓
Please plan to bring…
– A dish to share with serving utensils. Comment down below what you plan to bring to avoid a potluck with nothing by desserts (but then again, would that be so bad?)
– A reusable cup and utensils. This helps reduce the environmental impact of these sorts of meetings.
Heads up! Some volunteers have dairy, shellfish, and soy allergies, and there are vegan and vegetarian folks around too. Please consider this when deciding what to bring. Labeling any food that might contain an allergen such as soy or peanuts is helpful in creating a safe, enjoyable event for everyone. Leave a comment if you have a food restriction. 💚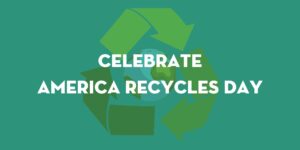 Sat, Nov 16, 1-3pm
Repair Café @ ACC Solid Waste – 725 Hancock Industrial Way
Bring an item in need of repair like bicycles, toys, clothing/textiles, computers, small furniture, electronics, tools and small appliances (No automobile repair). We will help you fix the item. This will be same day service and we are NOT masters at fixing everything, but we will try our best. "Repairing people and things, one cafe at a time!"
For more information: (706) 613-3512, recycle@accgov.com, or accgov.com/recycle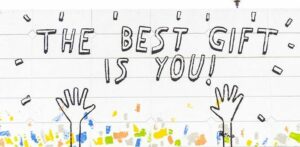 SUNDAY new volunteer orientation! Sunday, November 24, 2019 at 12 PM – 1 PM @ Free I.T. Athens
We host new volunteer orientation sessions every other Tuesday, but every now and then like to host a special session on the weekend for those who can't attend on a weekday evening.
Before you get started volunteering, you'll need to attend a new volunteer orientation session. These meetings typically last less than 45 minutes and provide an introduction to Free I.T. Athens and our policies.
There is no need to RSVP, just come by the workspace (2465 Jefferson Rd.) on Sunday, November 24th at noon. If you can't make this session, no worries. We hold orientation every other Tuesday. Check out the calendar for future dates (https://www.freeitathens.org/calendar/).