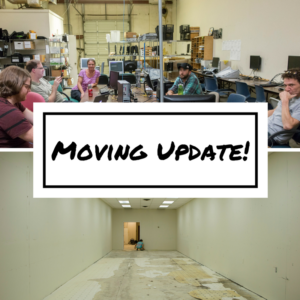 As you might have noticed, Free I.T. is planning a move to Homewood Hills shopping center! Here's everything you need to know:
Hours will continue normally at the current location (160 Winston Dr.) through Friday, October 14th.
That Friday will be that last day to donate, shop, or get tech support for two weeks, so if you've been meaning to come by and pick up one of our sale monitors, do it quick!
Donations, sales, and tech support will resume on Friday, October 28th!
That Friday will be our grand opening in the Homewood Hills Shopping Center (2465 Jefferson Rd.).
The big move is going down on the weekend of the 15th and 16th.
If you're a current volunteer and want to help out, email contact@freeitathens.org for more information.
Volunteer hours will remain the same (sort of).
For those that have been to orientation and signed the liability waiver, volunteer hours will remain the same, but will be held at Homewood Hills starting on Wednesday, October 19th. We might not have our time clock system up yet, but there will be a paper system in place so you are credited for all your hours. No worries there!
Want to help out but haven't volunteered before?
Meet us in the Homewood Hills location on Tuesday, October 18th at 6:30p! We'll be hosting the very first new-volunteer orientation at the new location then.
This year's annual meeting will be held Friday, October 26th at 8p in Homewood Hills.
Come celebrate a successful move as Free I.T. staff elect board members for the next term. There's going to be food!
We've been posting pictures of our progress to social media, so keep an eye on Facebook and Twitter! As always, if you have any questions, send them over to contact@freeitathens.org.
—Charlie